Monika Zabret
2013 | University of Ljubljana
Website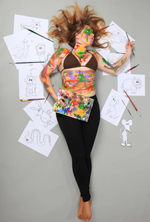 After I finished my bachelor's degree in painting at College of Visual Arts – Arthouse, Ljubljana, I continue my study on master's degree at Academy of Ljubljana, department of Painting-Video and New Media.
During studies I want to learn to breathe life into my creations and make them alive.
When I close my eyes, wonderful little images appear before me. From animal, magical, tiny, funny, simple, playful… To keep them alive, I sketch and transfer those little images on various media.