David Wratny
2013 | University of Ljubljana
Send a message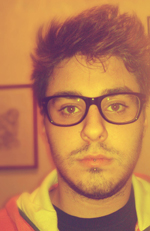 My name is David Wratny and I graduated from painting and graphic prints in 2012, under the supervision of professor Branko Suhy, at the Academy of Fine Arts and Design at the University of Ljubljana.
I continued the studies at the same institution but I've changed the catedra and now I take courses of Video and New Media, with professor Srečo Dragan.
Ever since childhood I showed an interest in drawing and items related with it. In high school I had my first exhibition in the schools gallery of the Gimnasium Piran, where I exhibited mostly anatomical drawings.
Now my primary area of interest is the human body and its behavior in the space in correlation with other bodies. I much rather see the world it in black and white, so I prefer monochrome graphics gravure, but I don't mind to see and use the flat colours of the woodcuts.
Sometimes I write poetry and I'm trying to integrate and interpret it through videos, I also like to play with the famous literary works and remake them in a short 3minutne (or less) videos.
My motto: Always fight till the end.
Exhibitions:
Exhibition of anatomical drawings, Gallery of Gimnazija Piran, 2007
NSK folk art, Gallery ŠKUC 2011
Digitalnepremestitve4 (DigitalTransfers4), Gallery ŠKUC 2013
Exhibition of 20 years of graphic prints by the students of the Academy of Fine Arts and Design of the University of Ljubljana, Gallery of the University of LJ, 2013
Ksevt in Vitanje, 2013