Alexandre Bonnin
2013 | University of Paris 8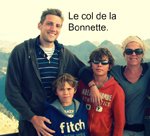 My name is Alexandre. I was born in Paris in 1989. I lived my first 5 years in the french capital. Then my parents moved to Toulouse. This is at that time that I got really interested by sport. I played tennis in a club. And with my family, we used to go skiing one week every year.
At the age of 10, I moved again to Caen. I decided to trade tennis with basketball. Indeed, I had enough of tennis because I wanted to play a collective game, in a team. I spent all my secondary and high school education in the city of William the Conqueror. Thus, I became also keen of History ; mostly the one dealing with the last century and the 2nd World War. I visited many times the Memorial of Peace in Caen. I can remember the excitement that surrounded the D-Day 60 years anniversary in June 2004.
Eventually, I decided after my baccalaureate to do my higher education (LEA and MINT) in Paris. This is the time when I discovered another hobby : traveling. Indeed, I enjoyed visiting many different countries (among them Canada, Morocco, Israel, Spain, Jordan). I also did a 6-months Erasmus in Leiden (Netherlands).
ACADEMIC COURSE:
2012-2013 : - Master 1 of International Media at the faculty of Paris 8 Saint-Denis (UFR Culture and Communication).
2011-2012 : - Revision to the competitive entrance exams for the Masters of Journalism. Registration to the CNED and the IPESUP for the preparation. Eligibility to the CELSA (Paris), CUEJ (Strasbourg) and at the IJBA (Bordeaux).
2011 : - 2nd semester of L3 at the faculty of Paris Ouest Nanterre La Défense. Graduation of a Licence of LEA English-Spanish (university language course with emphasis on business and management).
2010 : - Erasmus. 1st semester of L3 at the University of Leiden (Netherlands). Courses in english and spanish.
2008-2010 : - 1st and 2nd years of degree of LEA English-Spanish at the faculty of Nanterre Paris X.
2007-2008 : - 1st year of law degree at the faculty of Caen. Restart in LEA.
2007 : – Baccalaureate (school-leaving certificate taken at the end of high school) with a specialization in Economy.