Angel Aparicio R.
2012 | University of Paris 8
Send a message
Website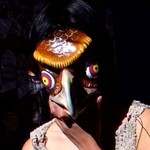 Walter Aparicio is an artist and multimedia communicator. He worked with different international artists for different projects of media arts, 3D mapping, documentary's and others works.
He maked his studies in Peru and France. In "San Antonio Abad del Cusco" University and in "Paris 8 Vincennes - Saint-Denis" University.
He currently lives in Paris.